Moving can be a daunting task, and it's even more challenging when you're relocating out of state. But with Roy's Moving 1, we're here to ensure your move is stress-free and as smooth as possible. As the premier long distance moving company in Chicago, we specialize in offering comprehensive and reliable out-of-state moving services that cater to your every need. When you choose us, we will take care of everything — from planning your move to packing and transporting your belongings — so you can focus on the excitement of the journey ahead.
Call us today to discuss the details of your long distance move! Roy's Moving 1 can help you get settled into your new home or commercial office with our white-glove assistance!

Moving You Anywhere in The US
Our team at Roy's Moving 1 is passionate about delivering the white-glove service you'd expect from five-star long distance moving companies. Our mission is to make sure your residential or commercial belongings are transported safely and efficiently. With 15 years of experience in the industry, we have the knowledge, expertise, and equipment necessary to move you from the Chicago area to anywhere in the United States. Our team will work with you to find a customized solution that fits your unique needs and budget, so you can rest easy knowing that you have partnered with the best.
Learn more about how our long distance movers can help ease the burden of relocating to a brand new state!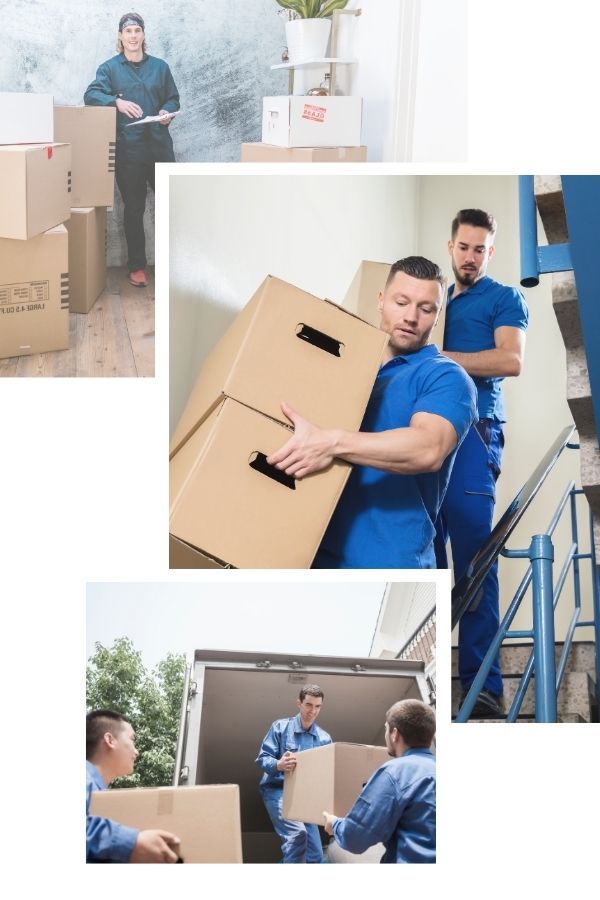 Why Choose Our Out-Of-State Moving Services?
At Roy's Moving 1, we believe that our customers deserve the best care, and that's what sets us apart from other Illinois long distance moving companies. Our commitment to excellence, quality, and customer satisfaction is what has made us the most reputable and reliable movers in Chicago. When you choose Roy's Moving 1 as your long distance movers in Chicago, you can expect:
Friendly and Professional Service: Our team is experienced, friendly, and always willing to go the extra mile to make your move as smooth as possible.
Expert Packing and Transportation Services: Our state-of-the-art trucks and packing materials ensure that your belongings are transported safely and securely.
Competitive Pricing: We offer a simple and easy-to-understand pricing model that puts the power in your hands. Choose which of our tuck sizes is best for your inventory and we'll make sure everything is transported at a price that's within your budget.
Transparent Communication: We keep you informed every step of the way through open communication channels, so you never have to worry about what's happening with your move.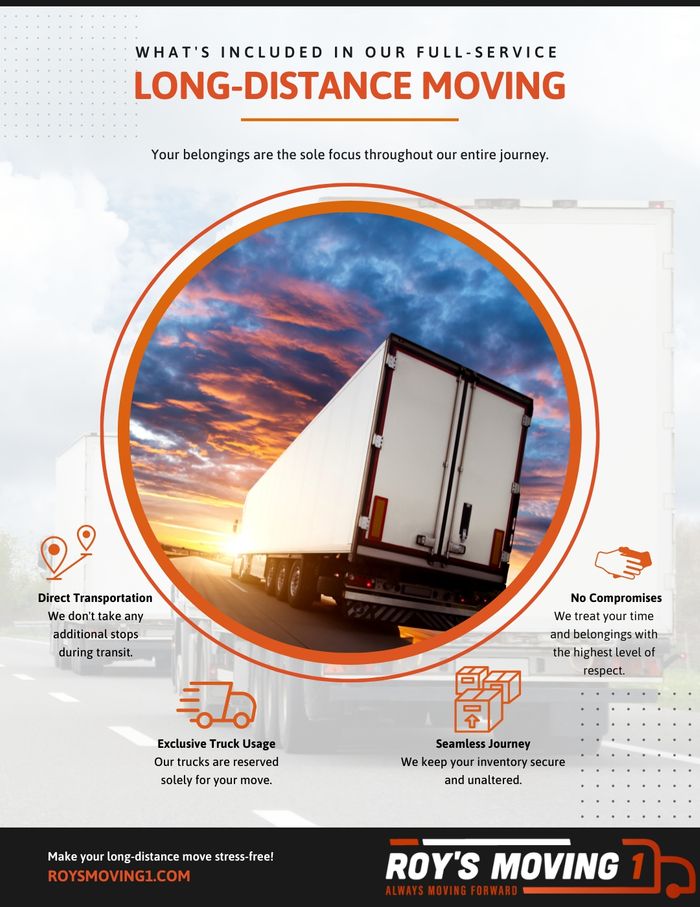 What's Included in Our Full Service Long Distance Moving
The Roy's Moving 1 long distance moving package offers exclusive service that carefully transports your items and ensures it is the sole focus of attention throughout the entire journey. With this package, we guarantee there are no additional stops made during the transportation process, meaning your belongings will receive the utmost care and priority. Our Chicago long distance movers will move your inventory right from your old residence (or place of business) directly to your new location.
Our dedicated team will load your items onto one of our trucks that is specifically designated for your move, ensuring that they are not commingled with other shipments. Only your belongings will be in our vehicle — there is no sharing whatsoever. This personalized approach guarantees that your possessions will arrive safely, giving you peace of mind during your relocation.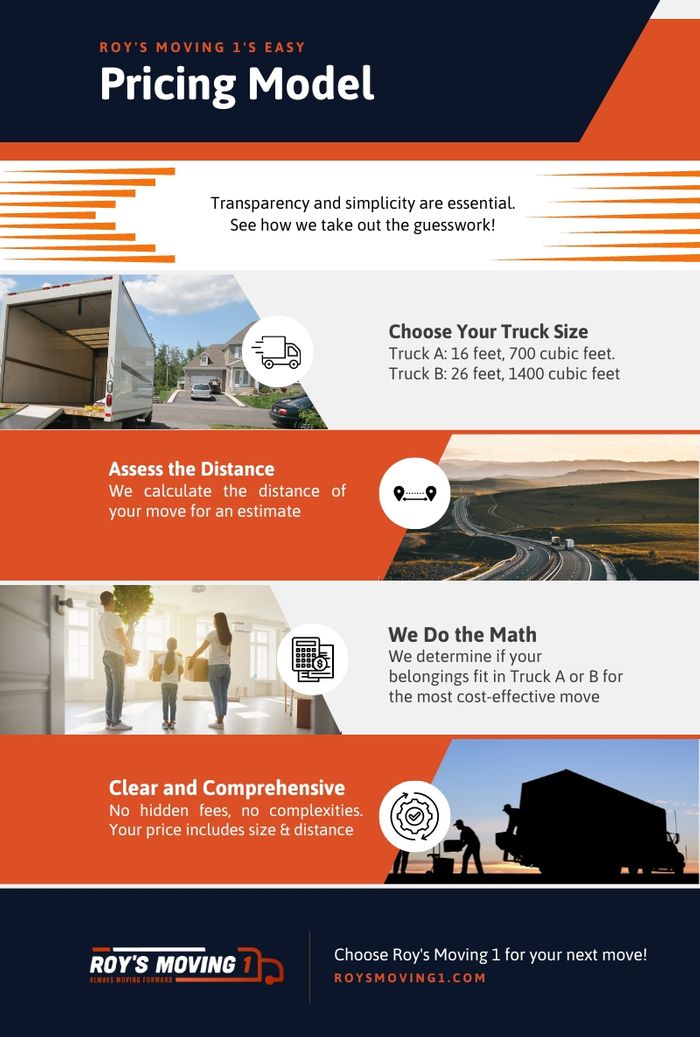 Explore Our Easy Pricing Model
Planning a move to another state is already hard enough, which is why our long distance movers at Roy's Moving 1 make choosing the right truck as simple and straightforward as possible. Our easy-to-follow pricing structure is designed to eliminate any confusion and provide you with full transparency regarding what to expect from our team.
At Roy's Moving 1, we charge only based on the size of the truck needed for your move and the distance it will travel. We offer two truck sizes to choose from: Truck A, which is 16 feet and 700 cubic feet, and Truck B, a larger option measuring 26 feet and 1400 cubic feet. Determining the cost of your move is totally hassle-free — we will help you assess your belongings and determine if they would fit in Truck A or B and then consider the distance of the move.
Say goodbye to complex pricing models and trust Roy's Moving 1 to help you choose the right options for your state-to-state relocation experience. We believe in providing our clients with upfront and transparent pricing, so there are no surprises along the way; no hidden fees or additional charges. When you choose Roy's Moving 1, you will know exactly what you're paying for, including any additional services that you may require.
What our customers are saying

"I can't believe haw fast and efficient they were."
"First time ever using a moving service. WORTH EVERY PENNY!!!! The pricing was extremely fair. The movers showed up on time were very professional and careful. They took amazing care to make sure my furniture wasn't scratched or damaged by wrapping with moving blankets. I can't believe haw fast and efficient they were. They had my entire move done in under 4 hours where I was on the 3rd floor (no elevator) and a 7 mile drive between the properties.
Couldn't recommend Roy's more. I hope I don't need them anytime soon, but I will only call them for now on."
-Kevin L.

"This is the 3rd time I have worked with Roy's and each time has been fantastic."
"This is the 3rd time I have worked with Roy's and each time has been fantastic. They work super fast but with care to keeping items safe. They showed up right on time if not a bit early each time. They have always gone above and beyond to wrap things as necessary and even helped me with a couple extra needs. I'm so grateful and will only be working with them in the future!"
- Amanda S

"Roy and his team made our move smooth and efficient"
"Roy and his team made our move smooth and efficient! Roy was quick to communicate and kept me updated throughout the entire process. Even when hiccups arose, which is natural with any move, he was agile and fast to problem-solve. Shoutout to Angel for assembling and disassembling complicated furniture and having such a positive attitude! I can't thank the team enough. 10/10, will be using for all of our future moves!"
- Angela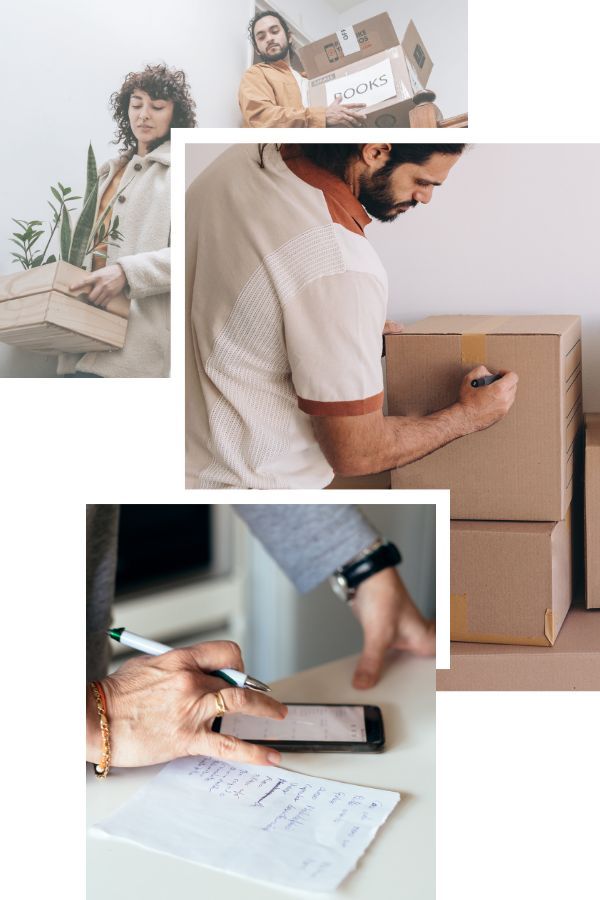 How To Prepare For Your Move
Moving requires careful planning and preparation throughout the entire process, from finding a new palace to settle into to hiring long distance movers. With Roy's Moving 1, we make the planning process as easy as possible for you, by not only providing white-glove service but also packaging and furniture delivery. Here are a few steps you can take to prepare for your move:
Make a Checklist: Create a checklist of the items you need to pack, what to donate, and any other tasks that need to be completed before your move.
Declutter and Downsize: Take the opportunity to declutter and downsize before your move. Donate or sell any items that you no longer need, freeing up space and reducing your moving costs.
Pack Smartly: Pack your belongings in sturdy boxes with plenty of padding and fillers to prevent them from being damaged during the move.
Label Everything: Label all your boxes clearly and color-code them for easy identification.
Contact Our Team: Contact our team at Roy's Moving 1 for a free estimate and consultation. We will guide you through the entire moving process, ensuring you have a seamless and stress-free move.
Relocating out-of-state doesn't have to be stressful or overwhelming. At Roy's Moving 1, we offer comprehensive and reliable moving services that cater to your needs. From our competitive pricing and expert packing and transportation services, our friendly and professional team is here to help you every step of the way.
Contact us today for a free consultation and estimate, and take the first step towards a stress-free and seamless move.
Contact Roy's Moving 1 for superior moving services
Fill out the form below and we'll be in touch!